The Fire Tetrahedron & Why It's Important | SERVPRO® of Jamaica Plain/Roxbury
1/17/2022 (Permalink)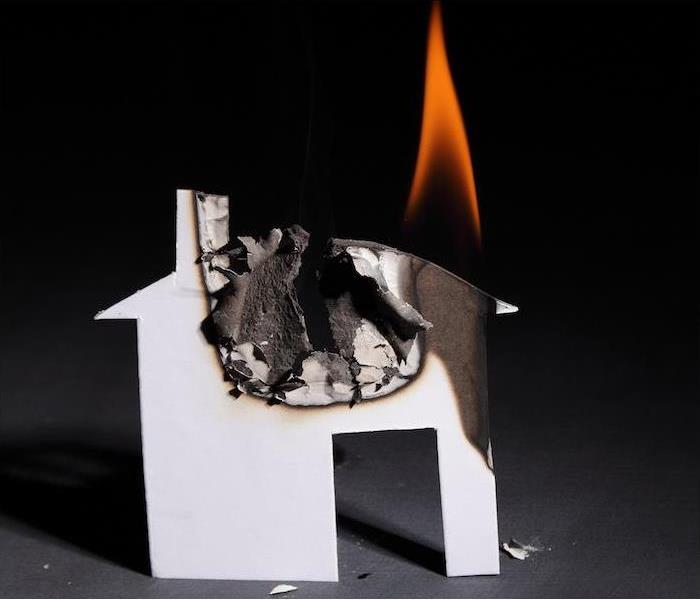 If your home or business has any damage, SERVPRO of Jamaica Plain/Roxbury is ready around the clock to help you recover.
You might have read that title and wondered why on earth we're talking about a geometric term, the tetrahedron.
Well, we're not actually talking about geometry in today's blog. We are actually going to discuss the fire tetrahedron.
If you think back on your childhood education, you may remember that a tetrahedron is a four-faced shape. That's the connection, because there are essentially four "faces" to fire, or four things it can't live without.
The 4 Things a Fire Needs to Live

Fuel. Adding "fuel to the fire" is a saying because in order for a fire to live or grow is has to have a fueling agent. Things like wood, plastics or many other common things are potential fuel sources for both planned fires and accidental ones.

Heat. In order for a fire to start, you have to have enough heat to make it burn. Different types of fires will require a different amount of heat. Some objects will simply melt when they hit a certain temperature, while others will combust, which can be a major danger.

Oxygen. Humans require oxygen to live, and so do fires. Oxygen feeds a fire, causing it to grow and also generate products of combustion.

Chemical Chain Reaction. A chain reaction is something that perpetuates a fire so long as it is undisturbed.

The 4 Ways to Stop a Fire

Cool it. The point of dousing a fire with water is to cool it to a point that combustion is no longer possible. By cooling your burning material, you are cooling it to a thermal balance.

Smother it. You may remember another common childhood lesson—"stop, drop and roll." We were taught to take those actions if our clothing caught on fire. There's a reason for that. When you drop to the ground, covering your clothing, it cuts off the oxygen supply to the fire, which smothers it.

Starve it. This works similarly to smothering the fire, except instead of removing oxygen, you're removing the fuel source.

Interrupt the chain reaction. There are chemical agents, such as halon, that can be very effective in putting out a fire. However, this chemical has an elevated potential for ozone depletion, meaning it is harmful to the environment, and has been banned.

If the fire tetrahedron makes a wreck of your home or business, we're ready around the clock to help you recover. Contact SERVPRO anytime for fast, thorough cleanup and recovery after a fire.